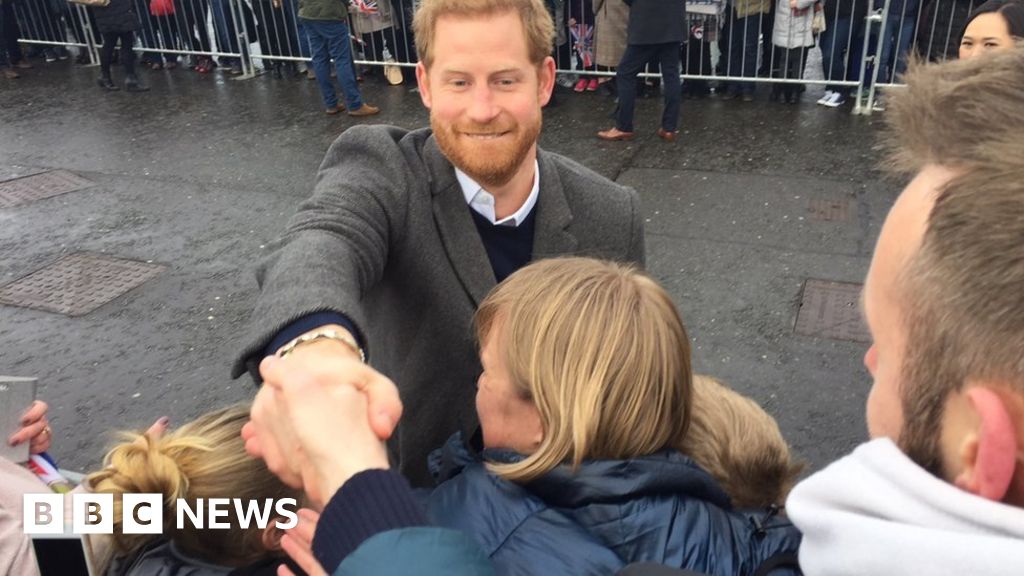 The crowds on the Edinburgh Castle esplanade waited for hours in cold to get up-close and personal with Prince Harry and Meghan Markle and those who did were not disappointed.
There was much excitement as the Royal couple travelled up the lines of people who were hemmed in six-deep behind the barriers.
The crowds surged forward as soon as the pair stopped to receive presents and chat.
At one point Harry said to a woman he feared the barrier may topple over because the crowd was pushing at her from behind.
Meghan, who is only on her fourth official visit since her engagement to the prince in November, was considered "polite" by those I spoke to.
But it was Harry, who has had the glare of the Royal spotlight since he was a child, who took time to look them "straight in the eye" and make each feel special.
Nine-year-old Oliver Clews, from Northampton, chatted with Harry about the Royal train.
Oliver told BBC Scotland: "He shook my hand and it was amazing and exciting and it made my holiday.
"Nobody in my class will have met Royalty before."
Catherine Piel, 21, from Connecticut in the USA, said she went "weak at the knees" when Harry shook her hand.
She said: "He looked me dead in the eyes, I'll never forget it, and said 'Nice to meet you and thank you for coming'.
"I didn't think I would get to touch him. I thought I was going to cry. I'm still shaking and my heart is pounding."
Martin Harris, 29, from Manchester, said Harry complemented on his ginger beard.
His girlfriend, Roseanne Aspin, 30, from Blackburn, said: "Martin's mum had only just yesterday been telling him to shave his beard off so I'm going to be calling her up today to tell her it has to stay now that his beard has Royal approval."
When the prince met Anne Brown, from Glasgow, her told her she had "lovely warm hands, the warmest he had felt that day".
She said: "It made my day, I was very fortunate to meet him."
Daniel Pearn, 30, from Cornwall, who waited two and a half hours to see the couple, said Harry told him he had "a very nice jacket and that it must be warm".
Klaus Rasmussen, 48, from Denmark, said he thought Meghan was "very friendly" when she came to speak to him in the crowd.
He said: "She asked what my name was and where was I from.
"She was a very nice woman and it was very exciting for my wife, she was happy about it."
Ashley Kremer, 35, from Canada, said: "It was really lovely to meet Harry and to shake his hand, which was very unexpected.
"He was joking about the weather with us and saying it was a bit chilly."
Katherine Baker, 21, from Essex, said she travelled to Edinburgh especially for the Royal visit.
"I wanted to see if they had chemistry together and they absolutely do.
"They are so cute. She's very reserved and seems very polite.
"He seemed very personable and I loved how he was patting the horse."